Animal Talk Magazine features adoptable dogs and cats in Rhode Island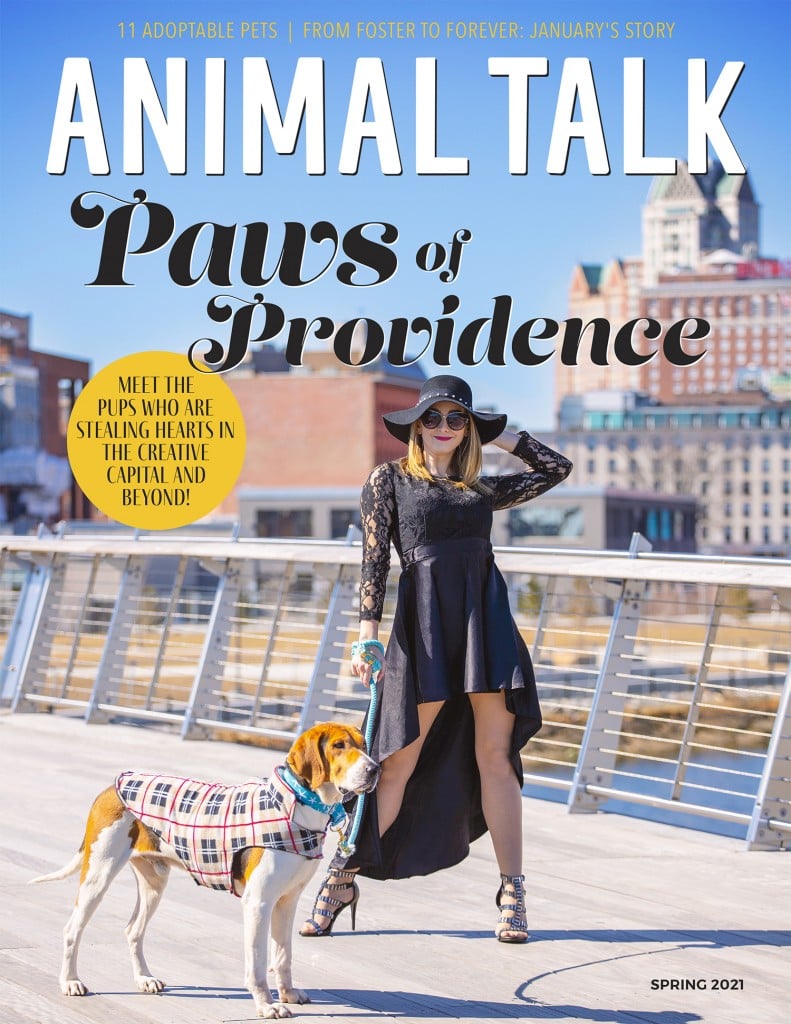 talking about animals is a new magazine in Rhode Island featuring adoptable animals. The digital publication was created by founder and animal lover Karen Kalunian with art director and graphic designer Meaghan Susi (who is also art director at Rhode Island Monthly). The magazine features adoptable pets, including dogs and cats, in features and fashion photo shoots with insights on how to give pets forever homes. "It's a 'one-stop-shop' so to speak, where with just a click of a page, you'll see beautiful photos of adoptable animals taken by local photographers along with short biographies of each animal," says Kalunian.
Kalunian has spent ten years in animal rescue and she has always loved animals. When his daughter, Kim Kalunian, who you may know as a presenter and reporter for WPRI Channel 12 News – led the play Anne As a child, Karen Kalunian thought it would be great to find an adoptable dog to play Sandy in hopes of finding her a good home. They found a dog named Buddy from the East Greenwich Animal Welfare League, and of course, someone adopted him from the show and Karen's love of supporting animal rescues was born. She has always shared information about adoptable animals on the radio and now she has a whole magazine dedicated to them.
Volunteers Kalunian and Meaghan Susi decided to team up to create the post with other supporters. Susi had previously done pro bono photo shoots of adoptable and foster animals from EGAPL Heart of RI Animal Rescue Leagueso they decided to use the photos in a post where they can share stories about each dog and cat.
"The idea started as a high fashion photo shoot with shelter dogs. I wanted to feature adoptable animals outside the shelter environment and thought they deserved a chance to be models as well. said Kalunian "Once I shared my vision for the shoot with Meaghan, she came up with the idea of ​​creating a magazine cover with the final photo, which then morphed into us creating an online magazine full. We thought why not share multiple adoptable pets in one place to make the adoption process easier? »
Susi is also an animal lover who adopted her dog, Paisley, from Friends of Homeless Animals in 2015. They planned the Pedestrian Bridge shoot in Providence, featuring an animal shelter volunteer with various dogs up for adoption. "The setting is so beautiful with the city skyline and it's a great place to bring the pups!" Kalunian said. "We really had a great system in place to photograph each shelter dog in turn and we also gave the model the ability to make quick changes between each shot. Many people walking across the bridge were stopped to watch and meet the puppies. It was a great moment for everyone involved.
Publishing is a 100% voluntary operation, from photo shoots and concept to writing and editing. "Meaghan and I have known each other for years, we both have a huge love for animals and we work well together. She's a creative person, and she always understands my vision and brings it to life," says Kalunian. provided most of the written content, but there are also many other people who have helped make the magazine possible, including photographers, videographers, volunteers and talking about animals supporters."
Whether you want to foster, adopt or simply be encouraged by cute animals, you can check out the first issue of talking about animals here! They plan to shoot new coverage every quarter, but may choose to do more due to the popularity of the first issue. They are constantly updating information on each adoptable animal and adding new ones, so check back often.
There's also a Spring Snuffs and Snuggs mini photoshoot with photographer Meaghan Susi on Friday, April 16 from 2-5 p.m. and Saturday, April 17 from 9 a.m.-noon at Wave Federal Credit Union at 480 Greenwich Ave. at Warwick. Packages cost $25 for three photos and $35 for six photos. A portion of the proceeds goes to We are here for the dogs, a non-profit organization that raises funds for local relief and shelters. Book your place by email animaltalk1920@gmail.com. Places are limited and prepayment is required.
RELATED ARTICLES
PVD Food Truck Events kick off the season this month in Rhode Island
Buppy Pets makes tasty treats for dogs and their humans
Foster program helps at-risk Rhode Islanders keep their pets