CMPD Animal Care & Control organizes "Pawlympics" for adoptable dogs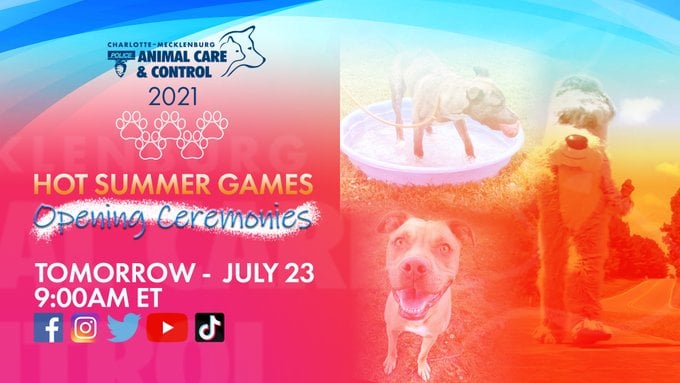 CHARLOTTE, NC — Get ready for the Canine Olympics, or "Pawlympics," as CMPD Animal Care & Control is hosting its own Hot Summer Games in hopes of finding forever homes for amazing puppies on Friday, July 23. .
AC&C Communications Manager Melissa Knicely said: "The Opening Ceremony, complete with a dog carrying a torch, will kick off the games on Friday, July 23 at 9:00 a.m. sharp on all of our social media channels. ."
The AC&C creative team has organized five canine events that will feature three adoptable dogs competing for medals.
Officials say Friday's events include The Recall Factor, The Agility Weave, The Agility Jump, The Water Works and The Nose KNOWS.
These events will be featured on AC&C's social media from July 26 until the closing ceremonies on Sunday August 8.
Officials say they hope this creative contest will not only show what the dog can do, but help them find adopters or foster homes for some of these hard-working dogs.
"The goal of creating fun content is to really be able to show the personalities of the dog. Anytime we can feature the animals, it helps to get them out and in front of people. We hope people will share our HOT SUMMER GAMES on their personal social media pages to raise awareness of dogs in need of homes. At this time, shelters across the country are very full and we all need the help of the community in adopting, fostering and helping to introduce animals in need of homes Part of our HOT SUMMER GAMES is a great way to start.
Follow the CMPD Animal Care & Control social media games listed below:
Facebook: @animalscmpd
Twitter: @animalscmpd
Instagram: @animalscmpd
TIC Tac: @animalscmpd