Duo to raise money for unemployed sled dogs in Lapland | News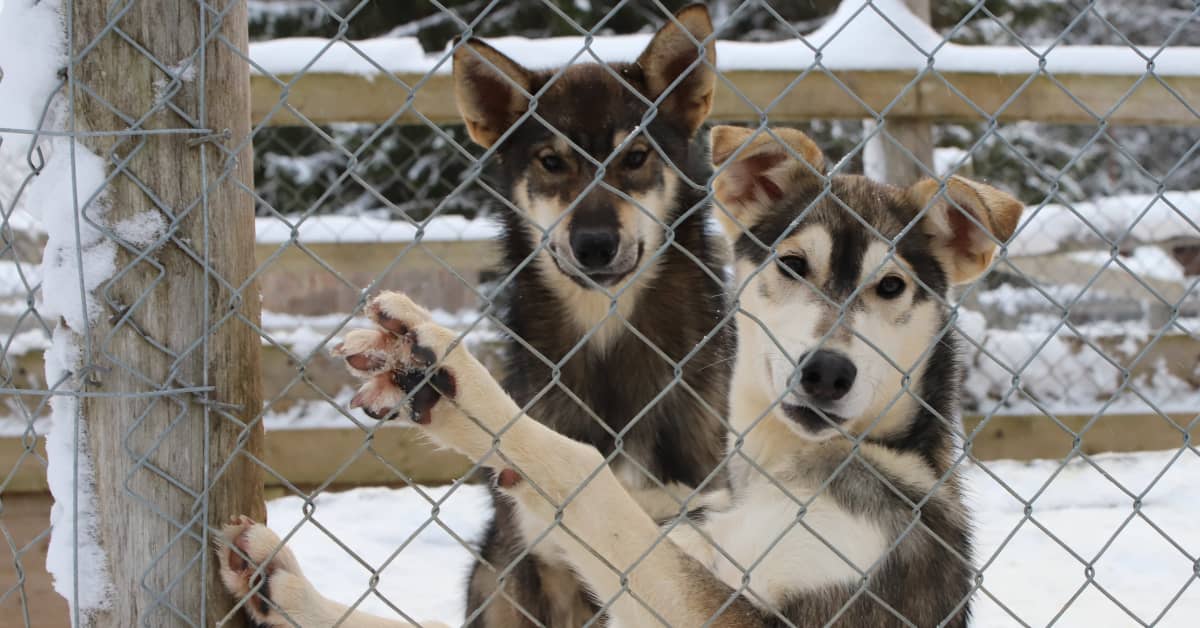 The collapse of tourism in Lapland means that thousands of sled dogs are out of work and could possibly be put down.
Efforts are underway to rescue thousands of sled dogs, owned by tour operators in Lapland, who have been left out of work by a massive drop in tourism in northern Finland since the start of the coronavirus outbreak.
Comedian based in Oulu Jean-Eric "Zaani" Chaumentin and entrepreneur City Wallenius have launched an international charity project to help unemployed dogs and counter the threat of dog culling.
Aid is starting to pour in, with the duo already receiving pledges of tens of tonnes of food.
The story continues after the photo.
Today, Chaumentin and Wallenius extend the countryside beyond the Finnish borders. The nonprofit they founded is still awaiting an official fundraising permit, but their goal has been set high.
"Pretty modest €8-10m. We're smiling now, but it's really the help needed. We hope people will realize that the situation is quite serious," Chaumentin told Yle.
According to Wallenius, the goal is not to give money directly, but to create work for dog sledding teams through donations. One way could be, for example, to purchase dog sledding safari gift cards.
"It would support sled dog businesses, and especially those whose business is based on husky safaris, by purchasing services from them or through food aid. Let's see where to find the best cure," Wallenius said.
Aki Holcka longtime dog sledding entrepreneur, told Yle he was glad the businesses were being supported in these trying times.
"Of course, I'm grateful to everyone involved in helping Lapland tourism and dog sledding businesses. I think it's a really good idea," Holck said.
No immediate threat
There are normally around 5,000 to 7,000 sled dogs in Lapland during the winter season.
With the onset of the coronavirus outbreak, dog sledding businesses in the area found themselves and their animals inactive. Over the summer and fall, dog sledding entrepreneurs have been anxiously waiting for the restrictions that have hit the tourism sector to be lifted.
The story continues after the photo.
Due to the uncertainty of the situation, reservations already made for the upcoming winter season are being canceled at an accelerated rate.
Some operators have publicly stated that if the survival of their business is at stake and they can no longer afford to keep their dogs, they may have to be put down.
However, according to the Lapland Animal Welfare Public Veterinarians, no cases have yet been found that would indicate neglect of sled dog welfare in any part of Lapland.
According to Marja Pedersenmunicipal veterinarian of the Lapland municipality of Inari, there have been no dog massacres, although the difficult situation facing the kennels is well known.
"The kennels are in a tough spot, from what I hear," Pedersen said.
Zaani, who himself has worked in the tourism sector in Lapland, was prompted to act by saying some dogs could be put down.
"Now we're talking about helpless animals that can't go out on their own to find work. We want to save dogs, and through them businesses," he explains.
Tens of tons of food
Several companies have also started helping the Lapland sled dogs. For example, a number of dog food manufacturers have pledged to send food to dogs, and the total amount of pledged donations has already reached tens of thousands of pounds.
A direct sled dog sponsorship program has also been developed.
The story continues after the photo.
Aki Holck told Yle that he was not involved in the sponsorship business. Instead, he urges people to buy gift cards to help dogs and the people who care for and train them.
"I prefer to keep dogs doing their job. These dogs have their own territory and need their own pack and familiar guardians," Holck said.
There are around 65-70 dog sledding entrepreneurs in Lapland, some of whom have just entered the industry. For them, the situation is much more difficult than for an experienced company.
Holck, who has been with the business for 30 years, believes he can make it through the winter, but knows it won't be easy.
"We will have to tighten spending and not make new investments, only spend on the maintenance and care of the dogs. This is how we approach winter. is the number one thing," he added.