Yukon Quest: 14 sled dogs, 4 mountain ranges, 1,000 miles – and total devotion | Canada
Jhe world's toughest sled dog race did not disappoint in 2016. Blizzards, stranded mushers, charging bull moose – all competed in the 33rd annual Yukon Quest International Sled Dog Race, an event which is more of an extreme wilderness challenge than a competition.
"We were looking for the toughest sled dog race in the world, and this year we found it," said Rob Cooke, a former British Canadian in the Royal Navy who finished Thursday despite dropping out almost halfway through the race. .
Overshadowed by the better-known Iditarod, the Yukon Quest begins in early February, traveling between Fairbanks, Alaska, and Whitehorse in Canada at a brutal time of year when temperatures often drop to -40°C (-40°F) or worse.
With just nine checkpoints in 1,000 miles, Quest mushers camp out on the trail and see no one for hundreds of miles, traversing four mountain ranges and an area larger than France.
The sheer scale of the landscape guarantees an experience for competitors, many of whom describe themselves as "quest junkies" who return year after year to test their personal limits and tackle whatever Mother Nature throws at them.
"This is the ultimate challenge for you and your team," said Mike Ellis, who finished Wednesday in 10th place. "I'm not here racing against other teams, I'm here racing against the clock, the track, the weather and myself."
This year, a handful of teams were trapped by a blizzard, a musher was charged by an angry bull moose, search and rescue were called for a dog who then recovered instantly, and a sudden, early thaw nearly sank the winner as he accelerated down the Yukon River to the finish line.
Veteran Alaskan musher Hugh Neff of Laughin' Eyes Kennel in Tok won the 2016 trophy, his second victory in 16 consecutive quests. "It's more than a trophy," Neff said at the finish line. "It really is the dogs. All I do is take care of them.
Neff took nine days, one hour and 25 minutes to complete the course, followed 80 minutes later by 2015 Wild and Free Mushing Champion Brent Sass in Eureka, Alaska. Allen Moore of SPK Kennels in Two Rivers, Alaska placed third with a time of nine days, three hours and 59 minutes.
The three teams signed up for the more expensive Iditarod starting March 5, when 82 elite mushers will compete for a $725,000 purse, including $70,000 for the winner.
Neff only took home $25,000 for his Yukon Quest win, or $10,000 after race expenses — a relatively small purse that's intentional, said John Firth, who hiked the inaugural trail in 1984 and wrote a few books on running. "The Quest brings in musher Joe Blow who wants to run the race but doesn't expect a paycheck at the end," he said.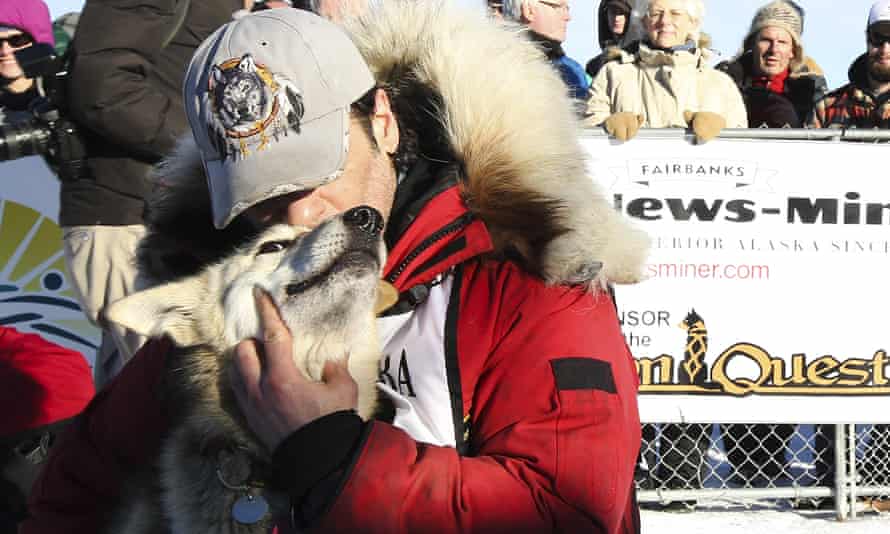 And that emphasis on survival, rather than speed, is reflected in the rules.
Mushers are only allowed 14 dogs and a sled, which must be repaired if broken. The sled carries enough food to provide 10,000 calories for each dog each day, as well as a mandatory ax and pair of snowshoes. Dogs can be dropped off at checkpoints, but a musher must have six dogs to complete. No two-way communication is allowed, and mushers must remain independent and at all times, refusing any offer of assistance except from their handlers in Dawson City.
Many mushers appreciate the emphasis on endurance rather than running from checkpoint to checkpoint in pursuit of a purse. "The Iditarod is all about the money, big time and flash, and everything I hate about mushing," Ellis said. "The quest is about dogs, trails, community and friends. Really, the only similarity is that they are both 1,000 miles.
However, a third of competitors scratch each year, suggesting that the Quest appeals to mushers most likely to find themselves in trouble. This year there were problems on the closed Top of the World road east of Dawson City, where the trail was rerouted after thick ice blocked the Yukon River.
The elite teams raced the detour without difficulty, but the mushers at the back of the pack made it to the 3,000-foot summit of the highway in a blizzard as night fell. The lead dogs were up to their necks in the snow and refused to move forward. Some teams gave up, camping out in the freezing cold and beginning to succumb to fear and despair.
Laura Neese, a 19-year-old rookie from Michigan, was the only musher at the top that night with a team of dogs ready to go no matter what.
Neese's team leader, Maple, plowed through the snow so deep it threatened to bury him, clearing the way for Neese and another team camping in a makeshift shelter, and the wrong way around.
"I had never seen anything like it before, with the drift and the winds," said Neese, after completing his first 1,000 mile race. "It was – well, I give my Chief Maple all the credit for getting us to Dawson without having to camp or play lead dog for a while."
Neese is known to sing and whistle at her dogs as she lays them in straw. The relationship between the musher and the dogs is absolutely what determines success.
"You have to have a clear head first and let the dogs know that you're going to get them through this – and then they're going to get you through this," said 2013 and 2014 Quest champion Allen Moore. They need to know that you are going to take the best care of them.
Dogs must pass a physical examination upon departure, arrival and all checkpoints and mushers are involuntarily removed at the first sign of abuse.
Even so, bad things happen. A dog died during the 2016 quest, suffering a sudden gastric hemorrhage half an hour outside of a checkpoint. The dog's owner, Sebastian Dos Santos Borges from France, immediately scratched himself. "The mushers are usually the first to call us," said race vet Lori Walker. "They love their dogs."
So much so that another musher touched his emergency locator beacon when his lead dog Charlie suddenly collapsed just outside a checkpoint. Within 30 minutes Charlie was in the back of the vet's SUV wagging his tail, licking the vet's face and begging for snacks. DeBruin was allowed to continue but was eventually scratched. Vets diagnosed Charlie with muscle myopathy or muscle spasm.
While the last musher was due to end on Friday – just in time for the annual banquet – virtually every competitor said they would be back in 2017.
Will rookie Laura Neese? Absolutely. "I loved it," she said. "I thought I was addicted before, but I'm worse now."