Elevation Sled Dogs offers tours at Evergreen Park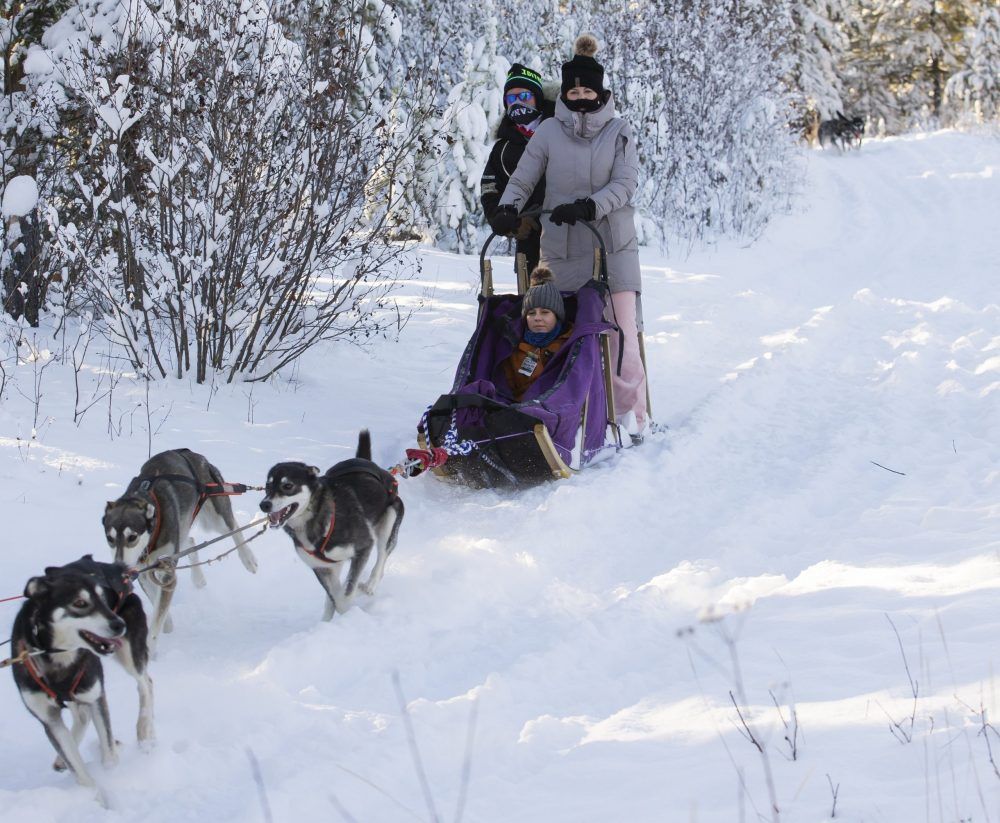 Content of the article
If you're looking for a new adventure this winter, Elevation Sled Dogs and owner Aaron Peck are ready to take customers to new heights.
Content of the article
Peck, who races sled dogs and ran the famous Iditarod, said he thinks Evergreen Park is the perfect place for a dog sled rider.
"We just thought it was a great location in Evergreen Park. This is such a pet friendly area and close access for everyone. We see how much fun everyone is having with the light show (Northern Spirit). We thought maybe sled dogs would be welcomed as well.
The dog sledding tour only uses two sleds with a dog handler with each sled, so the group is kept below 10 people ensuring compliance with COVID rules, as each sled can only fit two adults and one small child.
"We just want it to be simple this year. We're just trying for December to see how it goes. So far, so good. There has been very positive feedback," Peck said.
"I think we are about 50% booked until January 3. We receive new reservations every day. We just want to spread the word.
Tours through the trails around Evergreen Park last between 60 and 90 minutes and cover areas that most people don't see around the facility. Halfway there will be a break to allow the dogs to breathe and the riders to enjoy hot chocolate.
"It's (the length of the tour) that we advertise – depending on trail conditions. We offer it three times a day," Peck said, noting those times were 1 p.m., 3 p.m. and 5:30 p.m.
"The last tour of the day is in the dark, so we're advertising this one a bit different. We provide people with a beacon and they can experience running sled dogs in the dark, which is very running for me. It's just another level of adrenaline rush. It's a lot of fun. We can enjoy a little campfire halfway through and enjoy a cup of hot chocolate.
Content of the article
"The night tour is just a bit more of an authentic experience."
It can also be a learning experience as the dog handlers will teach participants how to harness and harness the dogs. Managers will accompany guests to ensure safety and answer any questions throughout the tour.
"We are still planning to race in Alaska in the Iditarod, as well as a few other preliminary races. It brings awareness to what we are doing there, even if that is not the goal or anything," Peck added.
"It's a way of serving the community. It brings activity to people's doorstep for families or couples or anyone who wants to get out and enjoy the fresh air. We like to share dogs. The sled dog has played a role in the building of our country and the development of the North in the past. It's pretty neat to go back in time and ride over the runners.
Once December is over and he has more details on what's going on with the winter racing season, Peck will make some decisions.
"We will see things progress. The races I'm supposed to run in January, I may not be able to run them. They are still planning their COVID thing. We'll see. Maybe we will open other dates in January. At this point, we are no longer opening dates beyond January 3rd.
Peck added that the Iditarod's March race is a bit divisive as the month would have been a good month for touring.
"In the future, I hope to have more help involved so that we can perhaps maintain visits throughout the winter."
Anyone interested in riding the riders with a sled dog team in an unforgettable experience can contact Peck at Elevation Sled Dogs via elevationsleddogs.ca