High-tech working 'dogs' make robotic paw prints while patrolling Air Force base in Texas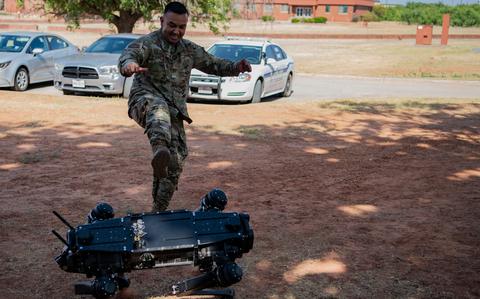 An Air Force base west of Dallas let robotic dogs patrol the facility this month, the second base in two years to try the machines.
The Dyess Air Force Base Security Forces Squadron unleashed an unspecified number of robot dogs — officially designated the Vision 60 quadruped unmanned ground vehicle by their manufacturer — on August 5 for a testing and training phase, according to a press release from the 7th Bomb Wing.
These quadrupeds, unlike their organic counterparts, do not bark or bite and are limited to a watchdog role, according to the Air Force.
The machines should "provide early warning" of potential threats, the master sergeant said. Trung Vu, NCO in charge of sensors with the 7th Security Forces Squadron, quoted in the statement. Dyess is home to two aircraft wings of B1-B Lancer bombers and C-130J transport aircraft.
Each Vision 60, a product of Ghost Robotics of Philadelphia, starts at $150,000, and the price increases as payloads are added, company spokesman Michael Subhan told Stars and Stripes via email. Wednesday. The robotic dog is capable of traveling nearly 7 mph with a range of six miles and three hours of battery life, according to the Ghost Robotics website.
"There are quite a few payloads that can be added to the Vision 60 robot," Subhan said.
Electronic canines can carry thermal cameras; chemical, biological, radiological and nuclear contamination sensors; emergency munitions disposal disruptors; manipulator arms; light detection and radar imagers; radios and other hardware and software, he said.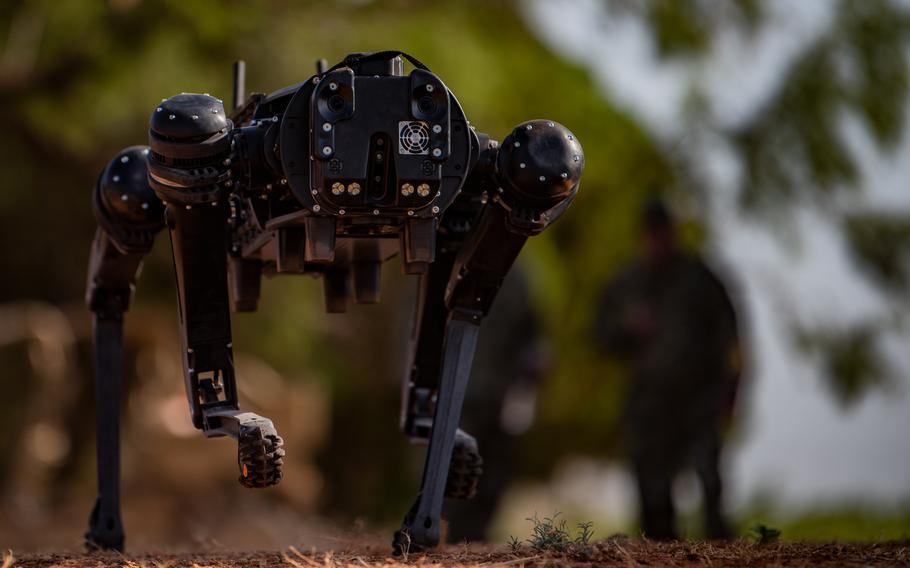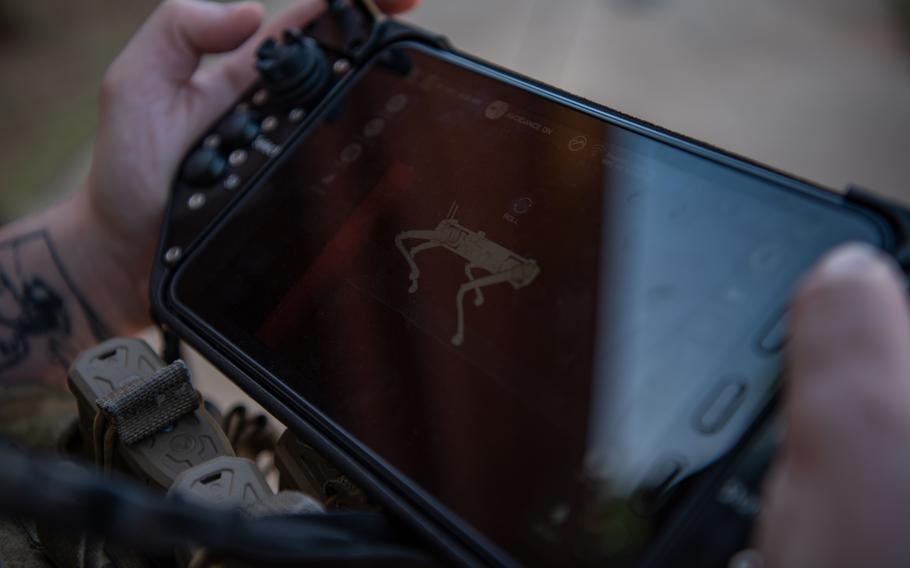 Dyess is the second Air Force base to deploy mechanical quadrupeds. Tyndall Air Force Base in Florida launched its robot dogs on the hunt two years ago.
The robots will not replace real working dogs, but "will be used as a force multiplier for enhanced situational awareness," Major Jordan Criss, commander of the 325th Security Forces Squadron, said in a press release. November 2020.
The robots' patrol paths are set and monitored by a non-commissioned officer in charge of the security sensor system, Criss said. Machines can transmit real-time data to their operators and be controlled from a remote control or laptop.
U.S. Customs and Border Protection also tested Ghost Robotics machines as potential patrol partners along the U.S. Southwest border, according to a Homeland Department news release in february.
The 100-pound robot dog is designed to traverse a variety of natural terrain and man-made environments like stairs, according to Homeland Security. Robot dogs can get back on their feet if they fall or are knocked down. Putting them to work reduces the risk to human agents from harsh environments, extreme weather conditions and drug and human traffickers, according to the department.
Border Patrol tested its autonomous quadrupeds as sentries by programming them to travel specified routes day or night. The machines also simulated inspections of train cars at rail yards, according to Homeland Security.
"The Vision 60 can operate autonomously via GPS waypoints or record a route and replay that route autonomously," Subhan told Stars and Stripes.